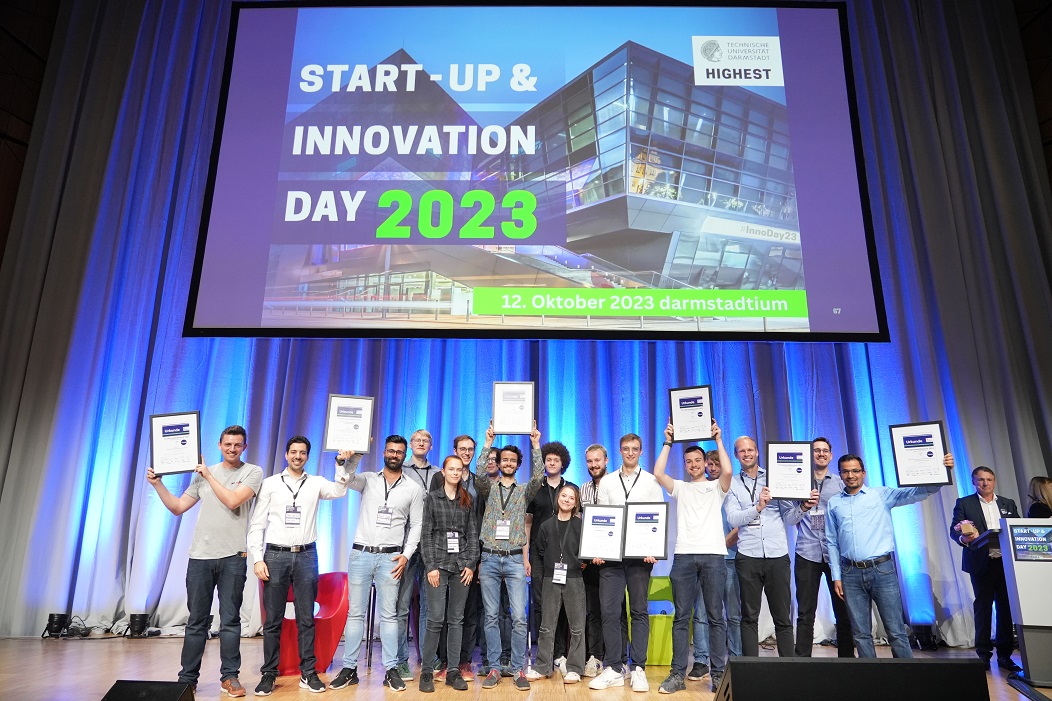 Smart screws, innovative therapeutics, vertically ascending wind turbines, and an anti-gawker wall – the 13th TU Idea Competition has once again demonstrated that pioneering ideas are born right here at TU Darmstadt. The 89 submitted product and business ideas were rigorously evaluated by an expert jury comprised of representatives from startups, business, academia, and politics, assessing their marketing and innovation potential. Following a multi-stage selection process involving pitches, the awards were presented on October 12, 2023, at the darmstadtium.
Advancing Innovations Together
The finale was inaugurated by Prof. Dr. Thomas Walther, Vice President for Innovation and International Affairs at TUDa, and Prof. Dr. Nicole Saenger, Vice President for Research and Sustainable Development at Hochschule Darmstadt. In their joint address, they emphasized that the challenges of our time can only be collectively addressed by pooling the rapidly proliferating and evolving knowledge distributed across various organizations and minds. As a result, this year marked the first-time involvement of Hochschule Darmstadt in the TU Idea Competition.
#YourIdea2023 – Congratulations to All Winners
In the "Scientists" category, Nassr Al-Baradoni secured the 1st prize with CorEye, offering smart solutions for monitoring the condition of safety-critical structures in wind turbines. Dr. Nassr Al-Baradoni was awarded the top prize, followed by MoProX – Molecular Proximity-Based Therapeutics, developed by Dr. Christian Meyners, Prof. Dr. Felix Hausch, Johannes Dreizler, and Thomas Geiger. Tim-Jonathan Huyeng received the 3rd prize for Motark, a mobile autonomous monitoring system for flood prevention.
David Weiß's Gaffop, an easily attachable, electrically inflatable, and stable anti-gawker wall that protects both first responders and patients from disruptive onlookers at accident scenes, was honored with the 1st prize in the "Students" category. Erik Kohler received the 2nd prize as well as the Merck Special Prize for Sustainability for his project, Vertical Axis Wind Turbines with Wind Deflector Elements. The team behind the CompuGene Student Lab, consisting of Conrad Knies, Annika Sonn, Antonia Schetle, Julian Kulenkampff, Kai Kabuth, Marlene Werner, Melina Baur, Micha Becker, Mohamed Taha Soudani, Moritz Domack, Nadja Eisenbruch, Nick Trettow, and Timo Schuetz, was awarded the 3rd prize for Virotect.
The Special Prize for early innovative ideas with spin-off potential, sponsored by the Association of Friends of the Technical University of Darmstadt e.V., was won by Archiplan, presented by Davy Karsenty. The Thomas Weilland Foundation presented the Special Prize for Science to Dr.-Ing. Romol Chadda, Dr.-Ing. Omar Ben Dali, Bastian Latsch, and Stefan Trillig of MimoSense.
We wish all the award winners and the finalist teams the best of luck in their future endeavors!