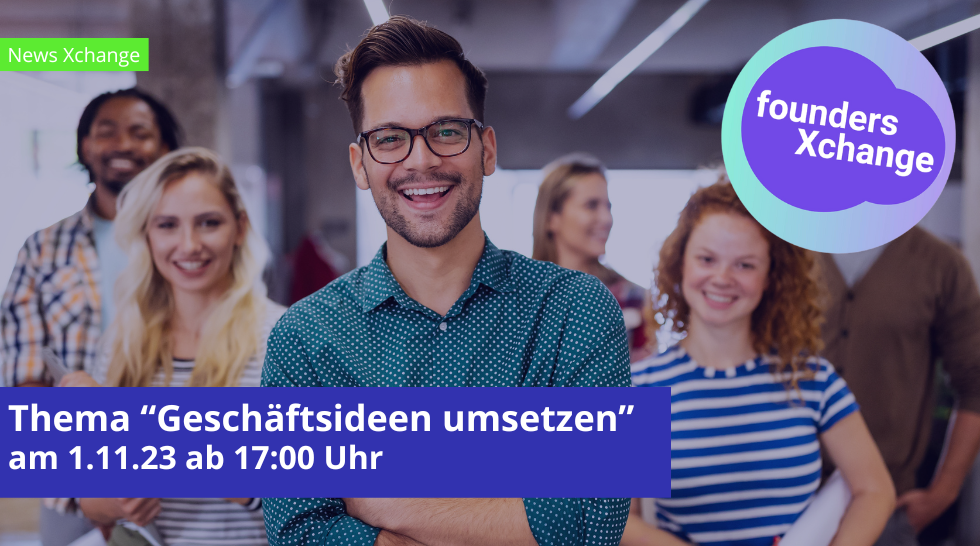 When?
11.01.2023, 05:00 PM – 07:30 PM
foundersXchange "Turning Business Ideas into Reality"
When?
On Wednesday, November 1, 2023, starting at 5:00 PM
Where?
Student Center h_da (Schöffenstraße 3, 64295 Darmstadt)
Topic?
This time, foundersXchange focuses on the topic of "Turning Business Ideas into Reality." Our speaker, Grudrun Lantelme (Startup Advisor, HIGHEST/TU Darmstadt), will discuss how to translate initial ideas into a feasible concept. What are the differences between an idea and a concept? What does the Business Model Canvas offer, and what else should be considered? These and other questions, particularly relevant for early-stage teams and founders, will be addressed during the initial presentation.
Bennet Siller (Startup Advisor, YUBIZZ/h_da) and founder of Transfairbag, will specifically discuss strategic partnerships and their significance for business success, especially relevant for more advanced startups. When is a partner considered a strategic partner? Can a partner also be a customer? Where do you begin, and what's crucial to know? These and other questions will be addressed in the subsequent discussions, as always.
As usual, there will be an opportunity to present your own ideas during the obligatory Open-Mic Session (3 minutes). Prior registration is appreciated but not mandatory.
We'll wrap up the event with snacks and beverages during a casual get-together.
What is foundersXchange?
foundersXchange is the platform for networking among entrepreneurs and individuals interested in entrepreneurship from Darmstadt and the Rhein-Main region. Entrepreneurs and those aspiring to become entrepreneurs, join us for the next foundersXchange event!
For more information, visit: www.foundersXchange.de
Erfahrungsaustausch und ein gutes Netzwerk sind das A und O für den Gründungserfolg.
Deshalb bieten wir allen Gründer:innen und Gründungsinteressierten die Möglichkeit, sich in
regelmäßigen Abständen mit Gleichgesinnten auszutauschen, in lockerer Atmosphäre wertvolle Kontakte zu knüpfen und spannende Impulsvorträge und Best Practice Erfahrungsberichte von Gründer:innen sowie Expert:innen zu erleben.
Gemeinsam veranstalten das Innovations- und Gründungszentrum HIGHEST, der
Gründungsinkubator StartUpSecure am ATHENE, das hessische Forschungszentrum für
Künstliche Intelligenz hessian.AI, das Centrum für Satellitennavigation Hessen cesah, das
Technologie- und Gründerzentrum HUB31 und die Hochschule Darmstadt den
foundersXchange zu wechselnden, aktuellen Themenschwerpunkten. Ein:e Expert:in hält
hierzu einen Impulsvortrag und führt in die Thematik ein, die am jeweiligen Abend im Fokus stehen wird. Im Anschluss berichtet ein: e Gründer:in oder ein Gründungsteam von
Erfahrungen in diesem Bereich und git uns einen Einblick in das Business und den Alltag des
Start-ups.
In der anschließenden Open-Mic-Session hast du die Möglichkeit, Deine aktuellen
Herausforderungen zu schildern, Fragen zu stellen oder dem Publikum (Gründungs-) Ideen
vorzustellen unIt direktes Feedback auf Augenhöhe zu erhalten. Außerdem git es ausreichend
Zeit für Austausch und zum Netzwerken.